The New Superstar of the Science Fiction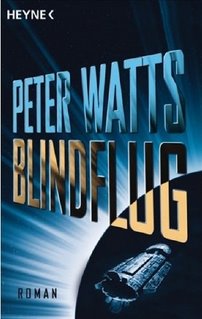 Which is what Google's translation software makes of
der neue Superstar der Science Fiction
, which is evidently what I am according to the Random House/Bertelsmann web page heralding the
German edition of ButtPflug
— er,
Blindflug
— which translates as "Blind
Flight
", but that's fine because the literal translation of "Blind Sight"— Blinder Anblick — sounds out phonetically like a couple of attornies-at-law.
Also, according to their
catalog
, I am a talent who "enters the international science fiction scene as it occurs only every ten years once" — which sounds nice — and "the present shooting star among American SF-authors", which sounds even nicer until you remember that a) I'm not American, and b) shooting stars are flaming chunks of debris with life expectancies measured in seconds, disintegrating in public.
Not a bad cover design, though. Doesn't take my breath away, but it's perfectly serviceable and I see they stuck my name above the title and in an equally prominent font. I seem to remember reading somewhere that that means they're promoting the author, as opposed to just the book.
I've only got one problem with all this: if I'm some kind of superhero, how come I got paid like a sidekick?
Labels: writing news