One millionth the budget of Spiderman 3. One thousand times the smarts.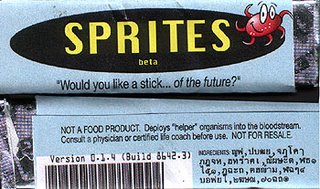 A couple of weeks back I told you about Infest Wisely, the seven-part "low-fi sci-fi" independent film put together by Jim Munroe and his motley accomplices; Dave Nickle blogged his thoughts following the premiere. Since that night (standing-room only, by the way) they've been podcasting one episode a week. I've kept quiet about that until now, not because I didn't like the show but because I like it enough to want everyone to check it out; and this week, with the "Early Adopter" episode, I figure it's safe to send you over.
You see, while Infest Wisely was filmed in seven episodes, they're not really stand-alone episodes. Characters recur and intertwine throughout the overall story. Sometimes you've got no idea how a given episode ties in to the overall arc, until someone or something from a previous installment makes an appearance and ties another link in the braid. It's really quite elegant— but it also means that if you downloaded the first chapter when it first came out you'd be confronted with two characters saying strange things in dark alleyways and under overpasses in the dead of night, filmed in ambient light with muddy sound. When it was all over you would have no idea where the story was going, and you might not come back a week later to follow up. And that would be a shame, because the story does go somewhere.
It goes into public urinals, for example, where hapless men get "milked" by women who pounce from the stalls and deliver guerilla hand-jobs as a means of acquiring semen for identity-theft purposes (genetic ID has become the norm in this day-after-tomorrow tale). It goes into your mouth, with sticks of gum that deliver nanites that turn your eyes into cameras and cats into sentient tool-users who speak in effete British accents (today's jpeg is a scan of one of the treats they handed out to the audience on opening night). It touches on the mind-controlling powers of certain parasites (there's a consistent eco/bio vibe running through the whole story, which is a nice change from the usual inorganic nanotech). It even goes into the Wright-Ramsey Building at the University of Toronto, where I've been known to hang out. I recognise the lockers.
The point is, this experiment has smarts far in excess of its miniscule budget— and now that three episodes are up, you can watch a bunch of 'em in one go to get a sense of how it all comes together. And I think you should do that.
At the very least, it'll help wash the taste of Silver Surfer trailers out of your mouth.
Labels: fellow liars