Excessively Graphic
I'm in a sodden corner of upstate rural New York at the moment, catching up on statistics and e-mails.
You do not want current, believe me.
You want flashbacks.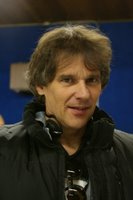 Here are a couple more shots from Pure Speculation last week. I won't say the one on the left is an accurate picture, insofar as my asymmetrical bananafacedness is not quite so obvious as it is on my passport photo, but it is one of my more flattering likenesses in recent memory. Thanks to Justina Ackeral for making me look vaguely rugged. In contrast, the photo on the left (from Bill Hately , for those who didn't catch Cath Jackel's comment on my previous post) makes it painfully obvious that my nose and the rest of my face bend in opposite directions, but it does at least encapsulate The Dream.
But here's something a bit cooler and a bit less egocentric. Che Gilson, an artist for Tokyopop, has rendered several of the crew of the Theseus as anime characters. Speaking as someone who actually knows the characters on whom these characters were based, she's actually done a pretty good job (Rob Cunningham in particular is a good likeness, insofar as animé characters can capture the essence of any flesh and blood). The only character that doesn't work for me is Sarasti— and interestingly, Sarasti is the only character of the lot whose physical description is not based on a real person.
Labels: writing news