Portrait of the Artist as a Not-So-Young Parasite
Dateline, EDMONTON, near "the chipping yards".
Okay, I'll admit I wondered what I was doing here at first.
The people were nice enough, but everything was games and action figures and Klingon prosthetics;
I saw no great fascination with the written sf lit, and it seemed pretty obvious that anyone who showed up to an hour-and-a-half interview with Peter Watts would probably have just gotten lost on their way to the bathroom.
But wouldn't you know it: the room was packed. The questions (delivered by Barb Galler-Smith, who arrived in the nick of time after convincing us all she must have been run over by a bus) were ripe for riffing. And the audience was pretty damn appreciative, even if some of them had already heard my comparison of God to an invisible purple hamster who lives up my butt and tells me what to do. There were many books to sign. And then a bunch of them (the fans, not the books) went out to this bar across the street and forced many beers and breadsticks and slices of pizza down my throat: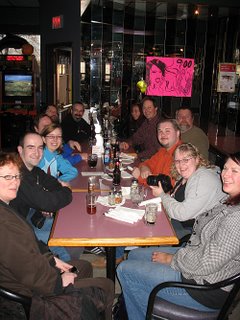 I met Bahumat, who posts here sometimes and insists that his LJ userpic is not an angry purple unicorn with erectile dysfunction. I met a wandering Rasputinian Mennonite with LaGrange-point Jovian-Earth asteroid trajectory calculus tattoed on his back. I met geeks and techheads and editors and we talked about neurology and political metaorganisms and other things beyond the ken of your average Harry Potter fan (notwithstanding that several of them seemed to be Harry Potter fans themselves), and — and this is the really cool part — I didn't pay for anything.
I even got interviewed by CTV for a piece that might get national exposure, although I think the word "fuck" may have slipped into a couple of my answers. The guy seemed to like my answers, anyway.

Very, very occasionally, being an author does not suck. This was one of those times.
Labels: writing news