Brittle Imaginings
Pursuant to
Remedial Gigerology's
digression into scrambler/ophiuroid relationships, here's my impression of one, cobbled together from pieces of the other.
Consider it a belated Hallowe'en treat: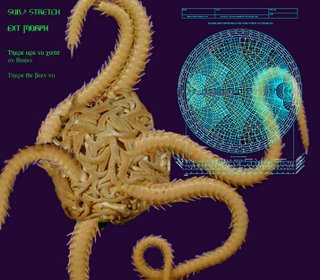 And what the hell: seeing as how we're on the subject of my favorite holiday, here are a couple of blasts from the past. Even casual visitors will have seen at least one of these before; more anal analysts (hmmm— I wonder if those two words spring from the same root...) might nod knowingly when I let slip that the Nosferatu chick in the other is Susan Oshanek.

Labels: blindsight, misc