Stop me if you've heard this one before.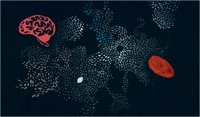 A physicist walks into a bar and says "Hey, I got this particle-wave duality thing all figured out". And his buddies look over the numbers, and sure enough, they parse. "But it's still bullshit," one of them says. "It has to be." And the others all nod in agreement.
"But the
numbers
," the physicist says.
The naysayer takes a moment to butter his nose. "Look, according to those, those
numbers
," he says, as the resident bar cat starts licking, "if you put this cat into that box over there, and put this radioisotope trigger in there
with
him, and closed the lid, why, why — according to your
numbers
the cat would be alive and dead at the same time!"
And everybody agrees that this is so fucking stupid that there must be something wrong with the numbers, even if they can't find what it is.
But here's the thing: almost a century later, they
still
haven't. That cat's still in there, in its indeterminate catly state, and the experts still don't know what that even means for sure. Except that a
reductio ad absurdum
once put forth to discredit a model has instead become an icon for it.
And you know what's even scarier?
It's happening again, only worse
.
If I'm reading
this NYT piece
correctly (and I'm trusting you guys to set me straight if I'm not), a theoretical consequence of dark energy is that quantum fluctuations following universal heat death could seed the spontaneous and probabilistic reemergence of a bunch of new universes. This would be fine except that probabilistically, simple things are more likely than complex ones to arise spontaneously. (The analogy they use in the story is Scrabble letters, spilled randomly onto a table; a word is more likely to arise from that happenstance than is an entire sentence.) And any
subset
of a universe, by definition, is less complex than the universe as a whole, and therefore more likely to arise.
So yes, while the spontaneous reemergence of new universes is certainly called for in some cases, in far
more
cases you'd just be getting
pieces
showing up. Cats in Space. Fully-functional yet utterly disembodied brains, floating in the void. Very small rocks. And since such iterations are more likely — and hence, more numerous — then the likelihood is that I'm just a disembodied brain
imagining
a universe where none actually exists, and the rest of you are — well, no. The rest of you
aren't
. Which makes me feel a bit better about not having got laid over the past few months, but a whole lot worse about pretty much everything else.
Of course, nobody takes this seriously. The whole Disembodied-Brain thing was cooked up specifically as a a
reductio ad absurdum
, to show how stupid the whole idea is. Everyone seems pretty much convinced that there's something wrong with the numbers, even if they haven't found what it is. And I think we should trust them, because after all they certainly figured out Schrödinger's — oh, wait...
At this point I'll just modestly clear my throat and suggest that the thematic punchline for the five-billion-year plot of
Sunflowers
(or
Gerbils
— still open to suggestions) will resolve the whole open-universe question much more elegantly, when I get around to it. In the meantime I can only invoke the spirit of the AI in John Brunner's
Stand on Zanzibar
, "bathed in his currents of liquid helium, self-contained, immobile, vastly well-informed by every mechanical sense: Shalmaneser. Every now and then there passes through his circuits a pulse which carries the cybernetic equivalent of the phrase,
Christ, what an imagination I've got.
"

Illo credit to Holly Stevenson.
Labels: astronomy/cosmology