In Defense of Scientology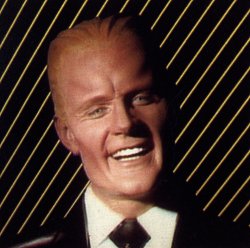 Yeah, I kind of thought that might get your attention.
Don't worry, it's not what you're thinking. Nothing exists in isolation; every object stands in contrast to its background, every thing is relative to everything else. So when I take a stand in defense of an admittedly pernicious, powerful, and downright idiotic cult, you knows that it is not that I love L. Ron more, but that I love Rome less.
Specifically, Constantine-era Rome, just around the time of the Nicene Creeds.
These
Anonymous
folks have been getting a lot of attention lately. They
hates
the Scientologists, my precious, they hates them
forever
. They release
Hawking-voiced manifestos
accompanied by
Master-Chief knock-offs
and
time-lapse cloudscapes
. They tell us all about how bad Scientology is. They launch
DDoS attacks
, and
organize protests
; they live in the wires. They are Max Headroom made flesh.
But what exactly is so bad about Scientology? What do they do to get people so riled up?
Well, let's see. They expect their followers to believe really stupid things about the universe, things that fly in the face of pretty much every scientific discovery ever made. They extort money from their
parishioners
victims. They litigate, harass and intimidate those who challenge them from without; they stifle, brainwash, and (some say) even kill those who question them from within. They do not tolerate dissent. They decide how and when women will be allowed to reproduce, strip away a woman's control of her own body. And they are
growing
; before long, many fear, they will have their hands in the back pockets of governments the world over. Who knows how many politicians and power brokers already suck at L. Ron's teat, while some radio-controlled jester gibbers and capers and leaps around on Oprah's couch to keep our attention off the guys loading up the truck in the back alley?
Is it just me, or are these guys complete fucking
amateurs
?
You think the Hubbardheads have political power? There's a word for the electoral chances of any political candidate who admits to being a Scientologist: "negligible". By an odd coincidence, the same word describes the prospects of any political candidate who
doesn't
admit — nay,
proclaim
— that they're a Christian.
Litigation? The crushing of dissent? Only pussies run to the courts. The largest atheist group on the planet — 35,000 members —
just got deleted from MySpace
. They violated no terms of service. They committed no offense. But they were found offensive, nonetheless; some Christians complained. Now they are gone.
Not even academia, the self-proclaimed haven of free and enlightened discourse, escapes the shadow. Wilfrid Laurier University, here in Ontario,
just denied official recognition
to the Laurier Freethought Alliance because the promotion of "a fulfilling life without religion and superstition" would be potentially offensive to the believers on campus. (Note that in this case, nobody even complained. Nobody had a
chance
to complain, because the whole damn group was aborted before it even came to term.)
I'm not reading about this in the media. Feeding '
"Atheist and Agnostic Group" AND myspace
' into Google News nets me two measly hits. "
Laurier Freethought Alliance
" gets me none at all. The only people who seem to even be aware of this, much less give a damn, are the biologists and atheists themselves. You gotta read the science blogs to even hear about it.
No lawsuits. No messy publicity. Just a few complaints, and *poof*. As if we never existed. Now
that's
power.
Oppression of dissidents? Demonization of outsiders? Institutionalized violence? Penetration into the highest levels of societal control? Rs and Ks, there is just no comparison.
Don't get me wrong. I've got no more time for the Scientologists than I have for any other religion
1
. (Actually, now that I think of it, sometimes I have quite a lot of time for the Jehovah's Witnesses. I even invite them in and ask them questions. More often than not, they're the ones who ask to leave.) Superstition is a really lousy basis for figuring out how the universe works. But going after the Scientologists in a world full of Christians, Muslims, and Trekkies is like surveying a world ravaged by AIDS and devoting yourself to the eradication of the hangnail.
I don't know who these Anonymous people are. But I think they should stop picking on someone their own size.
1
There was a time when I would have simply dismissed the whole thing by pointing out that anyone stupid enough to buy into that crap probably deserves to be exploited. I still believe that, but the problem is the world is evidently cheek-to-jowl with people who
are
that stupid, and the smarter folks who raise and butcher them use their herds to do an awful lot of damage to the rest of us.
Labels: ass-hamsters, rant