Our Souls in a New Machine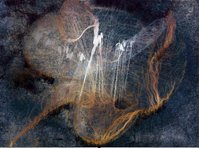 A couple of items hit me within the same 24-hour period this week: a
little humanoid robot
that performs interpretive dance numbers based on the brainwave and REM patterns of sleeping humans, and a noncorporeal
digital artiste
that builds paintings inspired by phrases we meat puppets offer up to it. I've seen
human
paintings and dances that do a lot less for me than these curious bits of software.
So what are we witnessing here? Is this just business as usual, artists using tools (is there that much difference between writing code and wielding a paintbrush)? So far, I think that's the case. But I also think something more — I don't know,
symbiotic
— might be peeking around the corner. We're getting awfully close to the point where we stop using apps
as
tools and start teaching them to
use
tools...
Labels: AI/robotics