The Appearance of Evil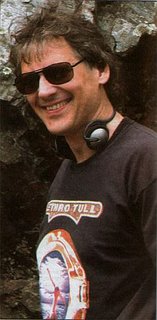 I actually like this photo by Amelia Beamer, which runs with the
Locus
interview I mentioned the other day. It doesn't make me look like a goof. My face actually looks symmetrical for once, and the viewer is not overwhelmed by the magnitude of the nose. This is perhaps the most flattering photo of myself I have seen all year, which I hope has nothing to do with the fact that it is also the only photo I've seen this year in which a significant part of my face is actually hidden from the viewer.
I'm also quite tickled by the title of the piece, which is...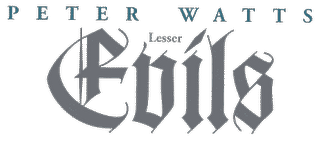 ...not to mention the actual fonts involved, which suggest, I don't know, a certain background Baptisticity.
So while I'm feeling so good about myself, I might as well mention a couple of upcoming appearances: July 11-13 I'll be one of the author guests at
Polaris
, here in Toronto, and while I'm merely one of the grunts I expect to be reasonably visible because they made me sign a contract committing to a minimum number of panels. I was happy to be asked, although I would've been happier if they'd asked me last year when Katee Sackhoff was on the roster.
Closer in, March 15-16 I'm going to be showing up at something called
SciBarCamp
(which, I myself would like to pronounce
cybercamp
although I don't know if anyone else does). It's officially described as "a gathering of scientists, artists, and technologists for a weekend of talks and discussions". I'm told the Perimeter Institute has something to do with it, although my only in was via
Karl Schroeder
, who in addition to being one of the kick-ass sf authors I've mentioned now and then is also one of the organizers.
Less than two weeks away now. Evidently we're all supposed to give presentations or something. I should probably get started.
Labels: writing news