Auntie Semite's Troubling Tales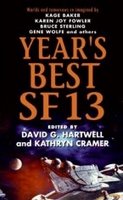 In a nice change from the usual nocturnal scenarios about teeth falling out or earthworms tunneling through my flesh, last night I dreamed I was involved with Angelina Jolie. It was pretty nice, except for the part where we got kicked out of a B&B in Guelph because I'd broken someone's vintage 45. She didn't even transform into a flesh-eating zombie at an inopportune moment, thus causing me to lose my erection. (Anyone else out there hobbled by a Baptist conscience knows exactly what I mean.)
I really have to get out more.
Anyway, I awakened in a generous mood, as apparently did someone at
Nature
a few days back, because he was happy to loosen the restrictions on my contribution to their "Futures" series. So after two years of comatose brain-death, the "Shorts" page has finally got some new material on it: "Repeating the Past", first appearance in
Nature
, third appearance in Hartwell and Cramer's
Year's Best SF 13
, second appearance
right here
. Or
here
, if you'd prefer to download the spiffy, official
Nature
pdf.
Now I've got to shock the "In Progress" page back to life...
Labels: writing news