Words from Watts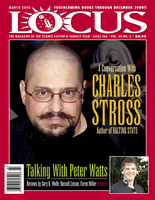 Ah. I see my interview is featured in
this month's Locus
. I get second billing to Charlie Stross, but hey — who doesn't, these days? There I am in the lower right-hand corner (and I'm actually kinda glad the picture is small because I look a wee bit goofy in it). Haven't read the final product yet, but I'm told a copy is winging itself to me even as we speak.
Another interview, more intimate and low of profile, was with— no kidding — my
bank
. Evidently a couple of employees at the
Citizens Bank of Canada
are familiar with my work (one of them sent me this Christmas e-card — I dare anyone to find another bank that gives such personalized service)...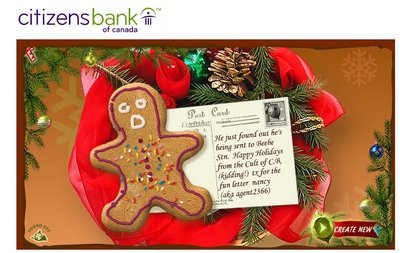 ... and presumably put up my name as a candidate for a series of interviews with "interesting clients" CB is doing for their in-house newsletter. I actually thought that the interview went pretty well, even though half an hour in my interviewer blurted out, "How can you even get up in the morning? How do you even keep
going
?". She also kept telling me she couldn't use any of my quotes because they contained forbidden words. (They have a list. Did you know the word "ass" cannot be used in Citizens Bank documents?) I was actually unable to actually come up with a quote that
didn't
contain any such forbidden terms, so we agreed that I would be sent a transcript with blanks that I could fill in, once I'd had a chance to think of more inoffensive terminology. But the deadline came and went, and I heard nothing back. So I finally e-mailed a follow-up query, and received this reply:
"...we are thinking that we want to profile people who are involved in activities that fit our values as an organization. ... we regret that we took up your time on this."
So I can only hope that someday, my ethical standards will rise to meet those of, well, the banking industry. But I admit it freely: it will be a long haul.
Finally, some of you whose comments and e-mails I have been slow to answer might want to know what I've been doing with my time. I wish the answer was "writing", but no; I'm part of a weekly workshop being run by
Jim Munroe
(of
indie movie
,
indie-graphic-novel
, and indie-conventional-novel fame) which introduces basic game-building techniques to creative types with limited programming skills (evidently a smattering of Visual Basic coupled with dim memories of self-taught FORTRAN and APL comprise rock-solid qualifications for the whole "limited" part of that criterion). Each week, one of us is assigned to blog the minutes of the session. This week it was my turn, despite the fact that I nearly froze/bled to death during the course of the evening. If you'd like to follow our progress — or if you'd just like to have a disdainful chuckle at a bunch of adults trying to learn gaming principles using apps designed for toddlers —
knock yourselves out
. We won't mind.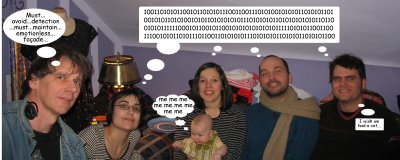 Labels: fellow liars, writing news