One Down, One to Go
The Toronto Public Library's
Big Honking Series On Speculative Fiction
kicked off last night, as promised, with a panel discussion between Jim Gardiner, Karl Schroeder, and myself, with Mike Skeet proving more than up to the task as moderator. It was pretty well-attended, if I do say so myself. And it was fun. We kicked around many ideas, we took many questions from the audience, and — best of all — we did it all at the expense of the Canada Council, whose disdain (nay, even
hatred
) for skiffy is the stuff of legend. I don't know how the TPL managed to slip this one under their radar — maybe the Council was lulled by the strategic use of the word "heritage" in the series title — but when they find out I bet they'll be spinning in their elbow-patched tweeds.
Afterwards a bunch of us adjourned to a nearby faux-Irish pub that had a Monday special on hamburgers and karaoke (although when challenged, they could not provide the track for
Thick as a Brick
. I sang it anyway.) I reconnected with some folks I'd met at
SciBarCamp
the month before (although, sadly, not Leona Lutterodt, who took this picture:)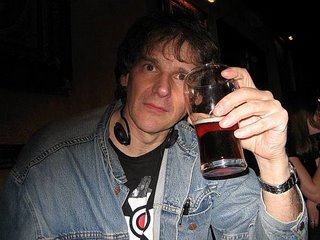 It was a good night, and I shall cling to its memory, for my next appearance is unlikely to be quite so popular. It is way out in the boonies, you see ("The Bitches", as we in TO refer to them), and it is not a Grand Opening but only a reading, and the stage will not be festooned with four skiffy authors but only with me. I shall read. (The vampire-domestication talk is off the table, because it's been a couple of years since I've given it and I've been too busy to dust it off and rehearse.)
Just what I end up reading is up to the audience. I have a meaty little excerpt from a novel-in-progress, never before posted, never before seen by human eyes. I could premiere it out in the Beaches, if enough people in the audience already know my other stuff and want to hear something new. Or, in the more likely event that the audience is only there because they mistakenly thought that Avril Lavigne was going to be signing autographs and who is this Watts doofus anyway, I might just stick with old standards from my other novels because it'll all be new to them anyway. In either case I'll probably round out the evening with a recent short story or two.
So, for those of you who are a) local, and b) suckers for the obvious low-status manipulation I went for in the previous paragraph, here are the details:
Thursday, April 24, 7pm
Beaches Branch, Toronto Public Library
2161 Queen St. East, Toronto, ON, M4L 1J1
(northeast corner of Kew Gardens: map and further details
here
)
Come. There will be cake.
But we all know what
that
means.
Labels: public interface