Look into the Mirror
So, my bud
Dave Williams
'
The Mirrored Heavens
is out, and garnering raves as well it should. And if you wander over to the appropriate
Amazon page
and click on the cover art, you'll see a blurb dead center of the spread, courtesy of Stephen Baxter.
But once you get your hands on the actual book you'll see a whole different quote there, from
me
: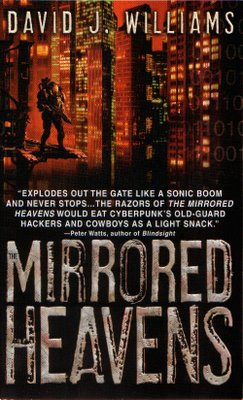 And I don't know if they decided at the last moment they simply liked my blurb better (possible, I suppose), or if they thought my name would sell more books than Stephen Baxter's (unlikely, and misguided if true) or if someone screwed up and spliced in the wrong quote just before everything went off to the printers (which, as I can attest from personal experience— albeit with a different publisher— has happened before). Or if Dave just sent me a one-off vanity mock-up to feed my ego and set me up for a fall. Regardless, I'm pleased to see my name up there, basking in a little of Dave's reflected glory.
Not least because Bantam/Spectra turned
Blindsight
down flat.
Labels: fellow liars