Ultima Thule, That's Where.
It is May 2nd. The middle of Spring. Two days ago, where I am now, it was 27°C. This is the most sheltered side of my cabin: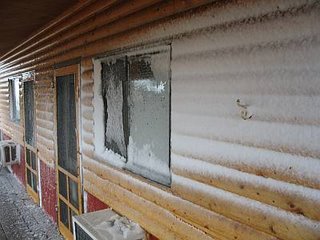 This is the approach to my cabin: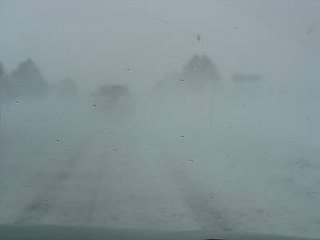 I have no exact numbers for you, but I can tell you that wind speed is strong enough to make the road's runoff flow
directly uphill
(at least in those sheltered little gulleys where the run-off hasn't simply frozen into two-lane Hieronymous Bosch frescoes on the spot). There are pelicans on the lake in front of me; at least, there were a couple of hours ago, before the viz declined so precipitously (get it?) that I could no longer see more than two meters offshore. Perhaps by now they are only Pelsicles.
Riddle me this: Where am I?
More to the point, what am I doing here?
Labels: misc, writing news