We Have a Pulse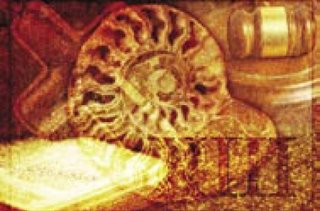 …but not much more than that. I am not dead, but I am snowed under by a variety of contractual and literary obligations, and if anyone out there really wants to free up enough of my time for more frequent postings here on the ol' 'crawl, they'll show me an easy way to calculate the variance of a population estimate based on stratified strip transects of unequal length, when y along each transect has already been converted into a distance-weighted mean-density value
prior
to the variance calculation
*
.
But in the meantime, the galleys for
Hillcrest V. Velikovsky
just came in from
Nature
, and I really like the
(unaccredited)
illo by
Jason Cook
(thanks for the link, Henry) so I'm posting it here as a placeholder, along with a brief excerpt:
Mr Velikovsky was obviously well-versed in placebo effects, having built an erudite display on the subject. What did he think would happen, the Prosecution thundered, when he forced his so-called "truth" down the throat of someone whose motto — knitted into her favourite throw-cushion — was If ye have faith the size of a mustard seed, ye shall move mountains? In telling 'the truth' Velikovsky had knowingly and recklessly endangered the very life of another human being.

Velikovsky pointed out that he hadn't even known Lacey Hillcrest existed, adding that needlepointing something onto a pillowcase did not necessarily make it true. The Prosecution responded that the man who plants land mines in a playground doesn't know the names of his victims either, and asked if the defendant's needle-point remark meant that he was now calling Jesus a liar. The Defense objected repeatedly throughout.
I initially wrote this piece as parody. Judging by some of the wacko responses to last month's podcast over on Starship Sofa, however, maybe I should reconsider.
More later. When I have, you know, a life.
*I mean, seriously, what are you supposed to use for n? Number of transects surveyed? The count has already been converted into units-per-square-mile. Number of square miles surveyed? Then how are you supposed to quantify variance between square miles, when each transect covers many miles and there's no way to position sightings within each transect?

And why are these bloody Americans still using "square miles" anyway? Next they'll be telling me to express transect length in furlongs…

Labels: writing news