Reznor and the Singularity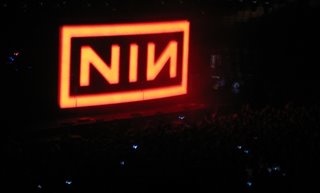 Well, they suckered me. After I'd heard so much about the vaunted FX of Nine Inch Nails' live show, Reznor
et al
stomped through an opening assortment of
Slip
and
Year Zero
tracks against a competent-but-hardly groundbreaking backdrop of coloured spotlights and dry-ice vapor. Four or five songs in, I was resigning myself to merely settling for the best industrial noise this side of
Eraserhead
, when —
—WHOMP—
—suddenly the boys were playing
Ghosts
on the night-time sand dunes of fucking
Arrakis
, and then
—WHOMP—
— they were playing "Vessel" from what I can only describe as the inside of a Cylon epileptic seizure, all bloody static and distorted neurological imagery and pounding plasma wavefronts. They never looked back. One moment they'd be spinning ethereal instrumentals in a fire-blackened twilit wetland where the water shimmered like yellow mercury; the next the stage would be infested with phalanxes of luminous teleporting spindles of light. Torrents of televisual static — you know, the old stuff dating from a time when Gibson's "television tuned to a dead channel" meant something other than a blue screen of death — swirled around the band's ankles like sea foam, then took flight to coalesce into an electronic overcast ten meters above the flooring. The whole damn stage would disappear behind walls of light that morphed from waterfall to a field of pulsing topographic tumors. At one point, some guy with a squeegee came out and actually
wiped the dancing visual static away
from midair, for all the world as if it were muddy streaks on someone's windshield. We saw a nighttime cityscape shimmering in heat haze, and igniting. Even the more conventional LED arrays seemed to be saying something, the patterns flickering across their faces just slightly the wrong side of random. I kept squinting to see if I could decipher some hidden message in those lights, and why not? This was the guy who spectroscopically embedded The Hand of God in the static burst at the end of "My Violent Heart". It's all noise, sure: but
none
of it is meaningless.
I walked out the stadium feeling a little like a Cro Magnon who'd just glimpsed the far side of the Singularity, with two thoughts tugging at the back of my mind:
If Reznor had told the ecstatic, fanatical mob swaying before him
to go into the streets and tear this fucking city down, Toronto's
police force — only marginally less corrupt than the FCP, if a lot less religious — wouldn't have stood a chance.
I almost wish he had.
Labels: misc