A Duality of Dysfunction at DragonCon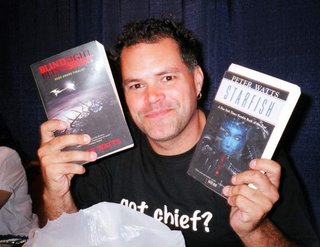 I was not at DragonCon this year. Actually, I have never been to DragonCon. But Aaron Douglas (aka deck chief Galen Tyrol*) was. And I'll have you know that he actually requested, nay, even
demanded
the books you see in his hands, thanks to some subtle psychological manipulation by one
adrienne everitt
the week before when he was up here in TO. So she brought him the books, and I believe they may have had some beers.
I do not know if ol' Aaron will ever get around to reading either novel, but perhaps that's just as well; evidently he's hoping that his next acting gig will be a little "less dark" than Galactica, in which case
Starfish
and
Blindsight
would not be a step in the desired direction anyway. But at least my own dysfunctional characters now share a documented point of intersection with the most gloriously dyfunctional cast o' characters in televised sf, and that is cool.
BTW, just to head off any misunderstandings, I did not put adi up to this. In fact, I kinda cringed to learn that she was doing it on my behalf; we're all familiar with those tub-thumping authors who shout ME ME ME at every opportunity, and, well, ewwww. But while I would never pimp my stuff so brazenly to anyone — much less to a prominent community figure who probably gets accosted with this kind of shit all the time — I gotta say, I'm squeeed into the stratosphere that adi did.
*And if any of you have to be told who
that
is, you have no business on this crawl.
Labels: public interface