Fear and the French
I've gone back and posted a coda at the end of Wednesday's fear and religion entry; the recent hysteria at Republican rallies is chillingly consistent with
Oxley et al's findings
that Conservative=Fearful. But let's move on to fear and horror of a more existential sort, the kind you might find in the shadow of a black supergiant half a half lightyear into the Oort: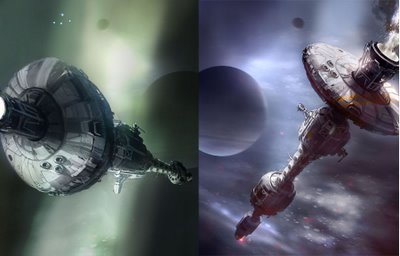 These are a couple of cover concept sketches for the upcoming French translation of
Blindsight
(tentatively scheduled for release in April 2009). The artist goes by the name Sparth: whether that's a Christian name, a surname, or merely an online handle I do not know, but I really like the work (more of which can be found
here
). I'm tending more to the green iteration, since it conveys a greater sense of creepy dread and alien surveillance. OTOH,
Theseus
looks especially beautiful in the blue treatment.
Enjoy. The illos are, of course, also archived in the
Gallery
for easy long-term access.
Labels: writing news