Perdido Shell Station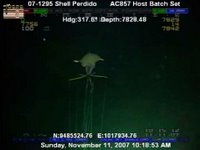 From the outline for
Intelligent Design
, a near-future Crichtonesque (except, you know, well-written) novel currently languishing on my back burner:
Nate Hochachka arrives on Baffin Island under complete news blackout. He has no idea why CSIS wants him here: he's freshly-minted faculty at the University of British Columbia, still paying off his student loans and trying to come to terms with the ubiquitous back-stabbing politics and infighting of an underfunded department (Hochachka's doctorate is in the neuroecology of marine invertebrates— not the most lucrative niche of the biotech age). Sequestered in a prefab boardroom on the edge of Frobisher Bay, a woman from the Ministry of Natural resources tells him he's been brought in to advise on a matter of national security. A PetroCan underwater wellhead has been wrecked in the disputed zone between Canada and the United States.

Such mishaps happen all the time, of course: sometimes it's one of the vagaries of a hazardous environment, sometimes an act of sabotage posing as one. What makes this particular event remarkable is a three-second fragment of video footage recovered from a seabed camera, just moments before all telemetry went offline.

The wellhead was attacked and disabled by a pair of giant squid.
Now check out
this article
from National Geographic (thanks to Karen Fernandez for the link), paying special attention to the embedded video.
I miss the seabed. I want to go back.
I am definitely working on the wrong book.
Labels: deep sea