Where Were You When the USA Pulled Back from Being a Fascist Shithole?
I was on the other side of the camera that took this picture, blocking the view of a big honking flatscreen monitor which showed the United States morphing magically into a place I would actually like to live: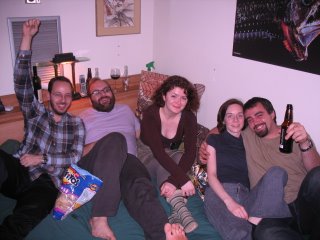 It was a brief and unfamiliar moment of happiness, so very long in coming: one of the
good
guys rising to take the reins for a change, delivering an inspirational and almost
1
flawless challenge that might have been cowritten by Aaron Sorkin and the entire screenwriting staff of Battlestar Galactica — and
nobody had even shot him by the end of it
.
Of course, my companions being what they were, that brief shining moment was not to last. Obama hadn't even finished speaking before two of them had fallen into a loud and bitter argument over which side of the Rockies Colorado was on. A third joined in when the fight turned to whether Missouri was pronounced "Mizzury" or "Mizzourah". And it was hard to make out the president-elect's closing words over the sound of a heated discussion on the necessary caliber of weapon needed to penetrate the bulletproof glass from a range of 1.5 miles.
Didn't matter, though. I looked at that eloquent figure and the massive support he'd won. Then I looked to the pallid and small-minded weasel who rules my own country, to the pathetic squabbling terriers who act as his opposition. And I realized that the day had come when the progressives in our midst might actually start fleeing
south
for a change.
Who knows? Given the right breaks, I might even go with them.
1Marred only by a brief and unfortunate reference to a pet which, to put it delicately, was not a cat.
Labels: misc