Why Believers Kick Atheist Ass at Scrabble
Here's a fascinating possibility: that people with religious beliefs are better at pattern-matching than those without.
The
empirical findings
are out of the Netherlands (popsci summary
here
), and are phrased much more conservatively: when presented with visual stimuli containing two levels of resolution (for example, a big square consisting of a bunch of little rectangles) "Calvinists showed a smaller, but still significant, … global precedence effect than Atheists". (Basically, they were quicker to recognize the local pattern within the global one.) Like all good scientists, the authors brim with caveats and qualifiers: does religion shape perception, or merely attract those with certain perceptual inclinations? Is this a hallmark of religious belief generally, or merely a feature of the Calvinist eyes-on-the-ground credo of "mind your own business"? The authors defend their choice of religious group on the reasonable grounds that in a country as small as the Netherlands, there just aren't any other religious groups for whom extraneous variables are comparable; the Catholics mingle too much with the Belgians and the Germans to assume a common cultural context, and Jim Jones' followers never had a significant Dutch component even
before
they were all dead. Follow-up international studies, encompassing other religious groups, are currently in the planning stages. In the meantime, Colzato
et al
admit to being worried about the implications of this whole religion-affects-perception thing:
…it seems possible that religious beliefs may indeed lead to different and sometimes discrepant and incompatible interpretations of the same incident. That this can happen is a well-known empirical fact but that it can originate in basic automatic visual operations that precede conscious representation is surprising and in some sense worrying — as it seems to work against the scientific ideal that careful observation is sufficient to reach agreements about basic facts and what we consider reality.
But here's the thing. The study focused on whether or not Calvinists had a different "global precedence" effect than atheists, and they pretty much confined their analysis to that question. But I'm not writing for a peer-reviewed journal here
1
, so I can wander a bit further afield: and if you actually look at the data they present, Calvinists are faster on the draw than atheists on both local
and
global levels; and their error rate is lower, too: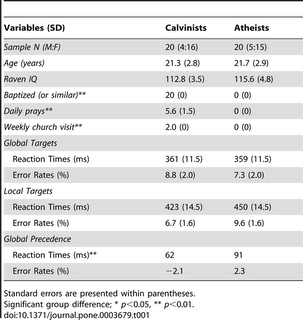 So I say, screw this global/local bullshit. The take-home message
I'm
reading here is that Calvinists are just better at pattern-matching than atheists, period. And I'm going to go out on a limb and predict that when Colzato
et al
get around to testing other religious groups, they'll find the same pattern: I think they'll find that ass-hamster fans of
any
stripe will be better pattern-matchers than us heathens.
You shouldn't be surprised by this; we've talked about it before. A few weeks back — during my
recent infamous dissection
of fear, religion, and the Republican Right —I cited a couple of sources describing the increased tendency among believers to see patterns and connections in random visual static, to attribute Agency and Cause where none exists. And over a year ago
I mused
about lateral specialization in our cerebral hemispheres, how one half of the brain seems to look for patterns while the other is more pragmatic. I even raised the possibility that one might deliberately crank up the pattern-matching modules (while giving the pragmatic ones veto power) so that one day we might actually derive legitimate scientific insights from religious rapture.
So these Netherlandian findings give me hope. At the very least, they give me a legitimate peer-reviewed title to stick in
Dumbspeech
's appendix — because it is this exact process which inspires the religious group that figures front-and-center in that book (the
Bicameral Order
by name, " a bastard Jainist sect with one foot in ancient India and the other in the splice-and-dice frankenworks of late-21rst-century neuroscience").
So today is a day to celebrate my shrewd insight, eyesight, and foresight into the future of the Human experience. And also to mention, apropos of nothing in particular, that the Dresden Dolls in general and Amanda Palmer in particular absofuckinglutely rock my world.
1 Well, not that you lot don't review it to within an inch of its life, of course. Just that your reviews can't stop me from posting
Labels: ass-hamsters, Dumbspeech, sociobiology