Brainoculars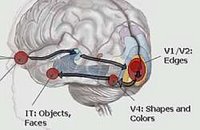 You may have seen
this
already. It's been out for a few days now. And at first glance it's nothing special: technology controlled by brainwaves through an ECG electrode interface, which is so far behind the cutting edge that you'll be finding it in
games
before the end of the year. But check out this quote as to why, exactly, the military would even
want
to develop brain-activated binoculars:
The idea is that EEG can spot "neural signatures" for target detection before the conscious mind becomes aware of a potential threat or target ... In other words, like Spiderman's "spider sense," a soldier could be alerted to danger that his or her brain had sensed, but not yet had time to process.
So. Another end run around the prefrontal cortex in the name of speed and efficiency. I'm telling you,
nobody
likes the pointy-haired boss these days...