Your Brain is Leaking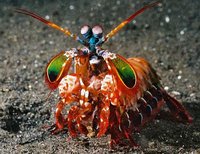 This punch-happy little dude has been
all
over
the
net
for the past week or so: easily the
world's coolest crustacean
even before then, insofar as how many lifeforms of
any
stripe can bash their furious little claws through the water so fast (accelerating at over 10,000G!) that the resulting cavitation bubbles heat up to several thousand degrees K? If their ferocious little chelipeds don't take you out, the shockwave alone will shatter you (well, if you're a piece of mantis-shrimp prey, at least).
The reason for their recent fame, though, is
this paper
in
Current Biology
, reporting that — alone of all the known species on the planet — these guys can see circular polarised light. And that's just the latest trick of many. These guys see ultraviolet. They see infrared. They can distinguish ten times as many visible-light colors as we can (still only 100,000 — which you'd think would at least shut up those Saganesque idiots from Future Shop who keep blathering about the millions and millions of colors their monitors can supposedly reproduce).
Each individual eye has independent trinocular vision
. Mantis shrimp eyes are way more sophisticated than any arthropod eye has any right to be.
But what really caught my attention was a line in
this Wired article
(thanks to Enoch Cheng for the pointer):
"One idea is that the more complicated your sensory structure is, the simpler your brain can be... If you can deal with analysis at the receptor level, you don't have to deal with that in the brain itself."
Which is almost as cool as it is wrong. Cool because it evokes the image of alien creatures with simple or nonexistent brains which nonetheless act intelligently (yes, I'm thinking scramblers), and because these little crustaceans aren't even unique in that regard. Octopi are no slouches in the smarts department either — they're problem solvers and notorious grudge-holders — and yet half of their nervous systems are given over to manual dexterity. Octopi have
individual control over each sucker of each tentacle.
They can pass a pebble, sucker-to-sucker, from arm-tip to arm-tip. Yet their brains, while large by invertebrate standards, are still pretty small. How much octopus intelligence is embedded in the arms?
So yes, a cool thought. But wrong, I think: because what is all that processing circuitry in the mantis shrimp's eyes if not
part of the brain itself
? Our own retinas are nothing more than bits of brain that leaked across the back of the eyeball— and if the pattern-matching that takes place in our visual cortices happens further downstream in another species, well, it's still all part of the same computer, right? The only difference is that the modules are bundled differently.
But then this artsy friend points out the obvious analogy with motherboards and buses, and how integrating two components improves efficiency because you've reduced the signal transit time. Which makes me think about the "functional clusters" supposedly so intrinsic to our own conscious experience, and the possibility that the isolation of various brain modules might be in some way responsible for the hyperperformance of savantes
1
.
So pull the modules apart, the cables between stretching like taffee — how much distance before you're not dealing with one brain any more, but two? Those old split-brain experiments, the alien-hand stuff — that was the extreme, that was total disconnection. But are we talking about a gradient or a step function here? How much latency does it take to turn me into
we
, and is there anything mushy in between?
Are stomatopod eyes
conscious
, in some sense? Is my
stomach
?
1
I would have put a link to the relevant article here, but the incompetent code over at
The Economist
's website keeps refusing to to open up its online back-issue pdfs until I sign in, even though I already have. Three times now. Anyway, the reference is: Anonymous., 2004. Autism: making the connection. The Economist, 372(8387): 66.