Like Many Of My Relationships, In Fact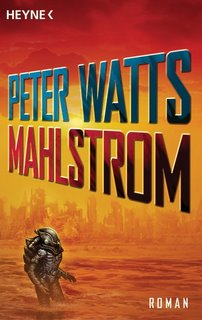 Just came across this cover art for the upcoming
German edition
of
Maelstrom
. It is beautiful, but wrong.
The feel of the piece is great, don't get me wrong. Technically, it's terrific. It even evokes a couple of specific scenes from the very top of the tale. But I'm not quite sure where Lenie Clarke is. Perhaps she was eaten by that Alien V. Predator hybrid down in the lower left corner.
I'd assumed that the armor (complete with Gigeresque back spines) from the
cover of Abgrund
had been meant to portray Scanlon in his preshmesh outfit. I guess not. Can't be anybody inside this
Malhstrom
armor but Lenie, and she
never
overdressed for such occasions. There's a reason I called it a dive
skin
: she's a "slick back amphibian", remember, with occasional implants and implements protruding to break her lines. Basically I envision her as a black-spraypainted nude with a fetish for chrome piercings. (By the way, it would be a mistake to think you can infer anything about authorial taste in such matters from that description.)
Anyway, bottom line, it's the kind of cover that would catch my eye (in a
good
way) if I saw it in a bookstore. I would not be embarrassed to be seen carrying it on a subway (although I'd be even
more
not-embarrassed if a blurb or two should find its way onto all that fiery cloud cover by the release date). And it's light-years ahead of the abomination Tor
*
inflicted onto
Blindsight
's hardcover edition.
So this is not a complaint, not by any means. Just commentary.
*Speaking of Tor, I see that they too are releasing a new edition of

Maelstrom

here in N'Am. Two days before Christmas, in fact. It would have been nice if they could have, you know,
told

me. But hey, why start now?
Labels: ink on art, writing news