Squiddance '08: Big Green, Big Screen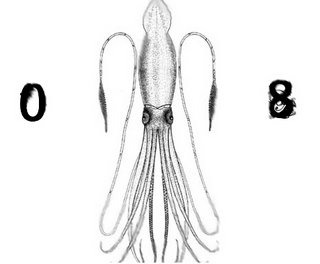 Just for the next little while I'm commandeering the 'crawl for social event planning, since not everyone is on facebook and I don't have the time to set up an actual forum. I assure you this will not become a habit. Local real estate values will be restored shortly.
In the meantime, though, this is how the next few days are looking:
Dec 27, noon through whenever:

"Cowboy Bebop" (brought to you from Squeak & Death Ray's personal collection), which has to be the worst title since "Battlestar Galactica" but which is widely regarded to be one of the best animé series ever, and one which Joss Whedon is rumored to have ripped off when he made "Firefly". We're talking 26 episodes and a movie, so this is going to take all the 27th and a chunk of the 28th.

Dec 28, probably noon unless anyone is still sprawled across furniture from the night before, in which case we might just pick up earlier:

the Conclusion of Bebop, followed by a variety of one-offs whose order depends on local interest: "Perfect Blue", "Jin Rah", and episodes of "The Venture Brothers" are all in contention. Robot Chicken's Star Wars specials may also make an appearance. If I dislike all these I may just commandeer the set and force everyone to watch Eraserhead.

Dec 29th:

Must be seen to be believed. The first half of Season 4 of Battlestar Galactica, rendered in glorious hi-def, would be cause enough to make the trip. But we have an added bonus for you. For those who were a) too young, or b) have suppressed the memory, a series called "The Starlost" was made right here in Toronto back in the early seventies. It was created by Harlan Ellison, engaged the talents of Ben Bova as science adviser and Douglas Trumbull (2001, Silent Running) on special effects. Acting talent ran the gamut from Sterling Hayden to John Colicos. The premise was nothing short of brilliant, and it is widely and justly regarded as the worst science fiction series ever made. And now, courtesy of the private (and soon-to-be-banned) collection of horror writer David Nickle, we present the entire 16-episode run of this atrocity interspersed among episodes of BSG. Think of the day as a kind of parfait, layers of gold and shit interlaced for as long as we can withstand the psychological whiplash. I have no idea how long this experiment will last. Perhaps we'll get all the way through both sequences, or perhaps we'll run screaming for our pitchforks after five minutes of Rachel and Devon. We won't know until we try.

Dec. 30:

no showings. I must be in Oakville to help dispose of the last possessions of my decrepit mother, in the wake of her relocation to the dumpster behind the Denny's on South Service Road

Dec 31:

still wide open. Maybe we'll all be sated by then. Maybe we'll watch the Lord of the Rings, extended edition. Maybe we'll just spin the disks and watch Wall-e or Brazil or 2001: A Space Odyssey for the hundredth time. Or Dark Star if it downloads in time.
So that's the closest thing we have to an actual schedule. Everything is liable to change without notice. We may even deke hard right and do some gaming: at least
Portal
and
Half-Life: The Lost Coast
can be completed in a few hours, and they look pretty good on a 47" screen.
Logo credit: Madeline "Squeak" Ashby.
Labels: misc