Remedial Gigerology, Part 2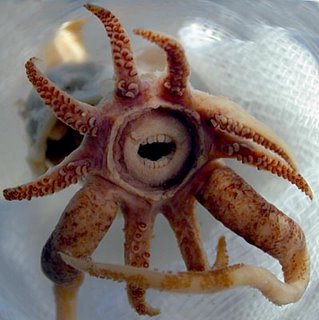 I'm guessing this portrait is already familiar to a lot of you, since I got the link both from a fellow skiffhead
and
a boardroom mundane, but — speaking as a biologist — this is one of the creepiest, most unsettling creature pics I've ever seen.
This thing has
teeth
where a beak should be — disquietingly human teeth, at that.
(In fact, the
species profile
does refer to a "beak", so this has got to be a superficial resemblance, not a homologous structure.
Still.)
I never really thought about it before, but this picture makes me wonder if the secret to generating creepy-verité is not to create something completely alien, but to create something mostly alien and then insert a clearly human feature onto the strangeness. Or maybe it's all about mouths; maybe I wouldn't be so creeped out if this little monster had a humanoid eye where its mouth is. I dunno.
But maybe I was missing the point when I tried so hard to make Blindsight's scramblers so utterly alien in every respect. Maybe, to make them really scary, all I had to do was add a little humanity.
Thanks for the nightmares, Mac.