WoW! Pandemic!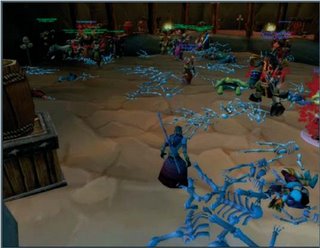 Today's post comes on the heels of a) me answering backlogged questions from XFire's gaming community, and b) grumbles from the peanut gallery about the recent lack of shiny techy science-speak on the 'crawl.
It just so happens that today's subject combines elements of both, and holy shit is it cool:
a
paper in Lancet
describing the epidemiology of an unintended plague that raged through the World of Warcraft back in 2005 (and thanks to Raymond Nielson for the heads-up).
The figures presented in this paper — which, I emphasize, appears in one of the world's most prestigious medical journals — includes a screen shot of corpses in WoW's urban areas.
The plague itself was a glitch: a disease whose original range was supposed to be limited only to areas where high-level players could venture, and which was — again, to high-level players — merely a nuisance. The problem was, the plague cut down low-level players like kibble in a cat-food dish, and as Crichton once observed, Life Will Find A Way.
The bug hitchhiked out of it's original home turf in the blood of high-level characters teleporting back to their hearthstones (analogous, the authors point out, to airline travel in a real-world outbreak). Player's pets got infected, and spread the disease. NPCs, built strong for reasons of game play, acted as infectious reservoirs, not dying themselves but passing the germ on to anyone they came into contact with.
Whole villages were wiped out.
Lofgren and Fefferman point out that this completely unintentional "Corrupt Blood" outbreak was in many ways more realistic than dedicated supercomputer simulations designed to model real epidemics, simply because a real person stood behind each PC in the population. While real-world models have to use statistical functions to caricature human behavior, WoW's outbreak incorporated actual human behaviour (for example, a number of healers spontaneously acted as "first responders", rushing into infected areas to try and help the sick — and in the process spread the bug to other areas when they moved on). It's true that the ability of WoW characters to resurrect introduces a certain level of unrealism into the picture; but it's also true that players generally get so invested in their characters that they don't throw even those renewable lives away unnecessarily. More to the point, the new paradigm doesn't have to be perfect to be a vast improvement over the current state of the art.
L&F suggest that what happened once as a mistake could happen again by design — that MMORPGs could be a valuable tool for real epidemiological studies, by incorporating plausible plagues with known parameters as part of the in-game experience. Players are already used to sickness disease, and death; that's what makes the game so much fun. Do this right, and you could do population-level doomsday studies repeatedly, under controlled conditions, incorporating levels of behavioural realism far beyond what any purely statistical model could manage. Even Mengele didn't have this kind of sample size.
I can see a lot of research being done this way, and not just epidemiological. There are martial and economic possibilities, too. I can see Homeland Security getting involved. I can see national policies increasingly based on insights gleaned from fantasy simulations — and I can see such policies being played from the inside, by mages and blood elves who might have their own agendas to pursue...
Damn. The story almost writes itself.